The Top 10 Best Restaurants in Abu Dhabi for a Night Out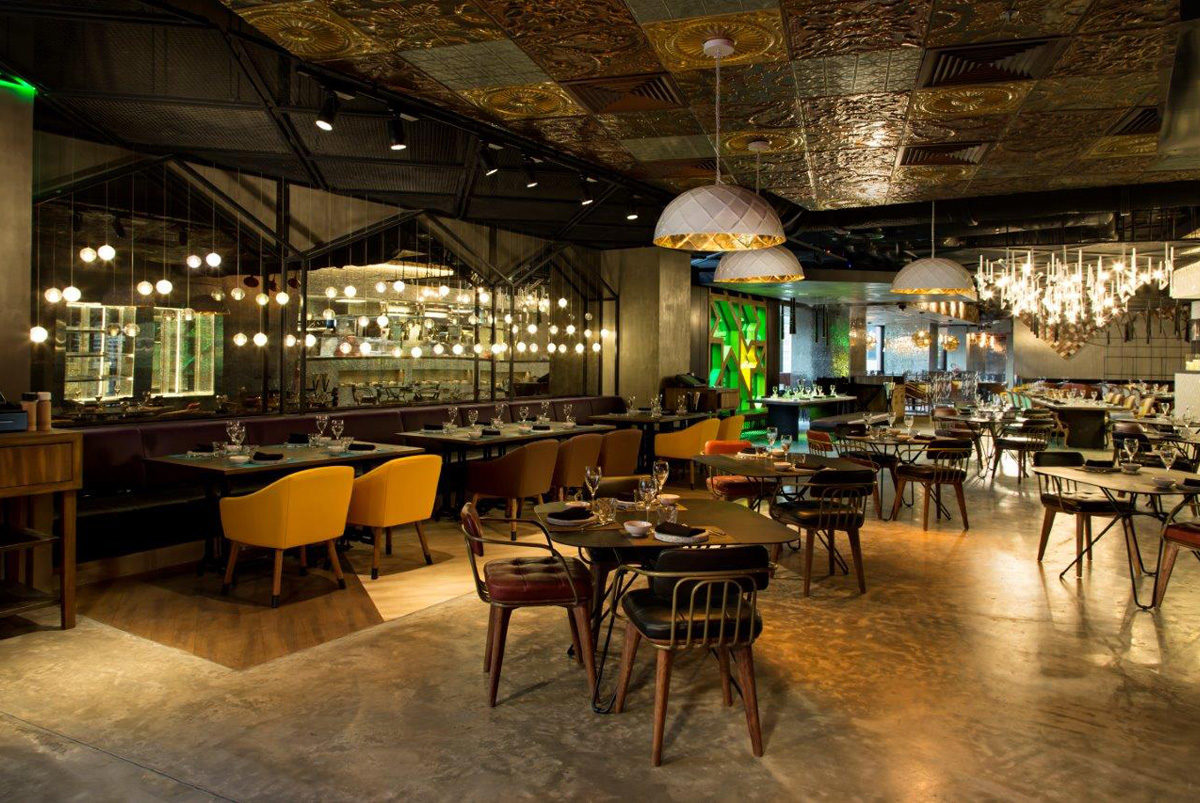 Abu Dhabi has become a dining hub – with many local and international restaurants setting up shop in the city. With the competition getting fierce and establishments offering the best when it comes to food quality, ambience, menu options, seating, and customer service, it can be quite difficult to pick just one place to complete your night out in the city.
INNOVATE wants to make it easier for you, so we've rounded up ten of the best restaurants in Abu Dhabi for a night out – you can thank us later.
#10 – Via Delhi
Located in the heart of Abu Dhabi, Via Delhi is one of the best Indian restaurants you can find in the city!
The place is small but cozy and the ambience is very warm and authentic. The menu options are very traditional – with every dish having a unique taste and the selection something you won't find anywhere else.
If you have a hankering for Indian food, Via Delhi is the place to go.
Highly recommended: chicken momos
#9 – Buffalo Wings & Rings
Offering the best Buffalo wings out there, Buffalo Wings & Rings is an American style restaurant located in a populated area in Cornish. The place offers a wide selection of sauces and heat levels – making their wings irresistible. They'll also get you to come back for more just so you can try all the flavors they have available.
The restaurant can be a bit noisy as it's usually crowded, but the chicken and the sauces make it all worth it.
Highly recommended: boneless wings with the crazy sauces
#8 – Royal Orchid
Whether it's the branch on Al Najda Street or the one on Al Maryah Island, Royal Orchid has consistently been on our lists of best Thai/Chinese fusion restaurants in Abu Dhabi. The dishes are exquisite, their portions are generous, and the staff delivers great service.
Apart from food, though, what sets Royal Orchid apart from similar restaurants is the ambience – the place boasts such a traditional and authentic atmosphere that you feel like you've been transported to Southeast Asia.
Highly recommended: tom yum soup, golden prawns, and crispy beef Beijing style
#7 – Hankook
Another place that offers a very authentic Asian dining experience is Hankook.
Like in traditional Korean restaurants, the place has small elevated rooms where customers sit down on the floor to eat.
And it's not only the seating arrangement that is authentic – the food is, as well! The dishes taste fresh and flavorful and they're pre-served with the usual Korean appetizers that are perfect to enjoy in groups.
Highly recommended: salted mackerel fillet and kimchi galbi
#6 – Salad Boutique
As you can tell from the name, Salad Boutique offers salad themed dishes – but that's not all they have on the menu.
This small restaurant – located in Al Nahyan Camp that has built quite a buzz locally – also has other delicious items on offer: pastas, soups, desserts, and light bites.
While the place can be quite small and the food preparation a bit long, they make up for it with the quality and the presentation of the dishes.
Highly recommended: Buffalo soup and chicken pesto pasta
#5 – Carluccio's
With a beautiful view of the mangroves mixed with the modern Italian décor, Carluccio's offers an exceptional dining experience. We recommend going there for a meal around sunset so you can take full advantage of the ambience and the view.
And while the very traditional Italian menu they offer can usually mean awesome pizza, we also suggest trying out the salmon pesto, Spanish ravioli, and lamb cutlets.
#4 – BOA Steakhouse
Another great restaurant located in the eastern mangroves area is BOA Steakhouse.
We have to be honest; dining at BOA Steakhouse can take a considerable chunk out of your budget. But believe us when we say each bite is worth every dirham you pay for it.
The restaurant has dashing in-store décor and has both indoor and alfresco seating. As for service – they offer one of the best customer experiences in Abu Dhabi. The staff knows the menu items in detail and has on-point recommendations.
The highlight, though, are the steaks – of course.
We recommend the New York Strip and the Black Angus Ribeye with scallops and mashed potatoes, but you can pick pretty much anything off the menu and it would turn out delicious. If you're not sure, have faith on what the servers suggest – they won't steer you wrong.
#3 – Jazz@PizzaExpress
Looking for a place that's a perfect mash-up of jazz and Italian food? Look no further than Jazz@PizzaExpress. The dishes are unforgettable, they have a great drinks selection, and they feature live jazz music in the evenings.
Highly recommended: risotto, spaghetti carbonara, and classic antipasto
#2 – Smoking Doll
Located at both the Nation Towers and on Al Reem Island, Smoking Doll is our top choice when it comes to Asian fusion restaurants. They have great choices in their menu, the service is excellent, and the place offers a relaxing and quiet atmosphere perfect for a date.
We recommend the doll rolls, por pih sod Vietnamese fresh rolls, spider rolls (pretty much any 'roll' in their menu, actually), and the Tom Kha soup.
#1 – BU!
BU! is pretty new in the dining scene in Abu Dhabi, but it's slowly making a name for itself. The main pull is their three main avenues for dining: the terrace, bar, and the restaurant – making sure that each of their customers get to experience a full night of great view, relaxed atmosphere, and amazing food.
Their menu is also new and unique; with an emphasis on Latin American cuisines. Check out the starters and their steaks and we guarantee an exceptional experience on your next night out.
Highly recommended: bief de chorizo ribeye steak
Did we miss anything? Let us know your feedback – and additional suggestions – in the comments and we'll definitely check those places out!