Sheikh Rashid – A Great Man Who Can Never Be Replaced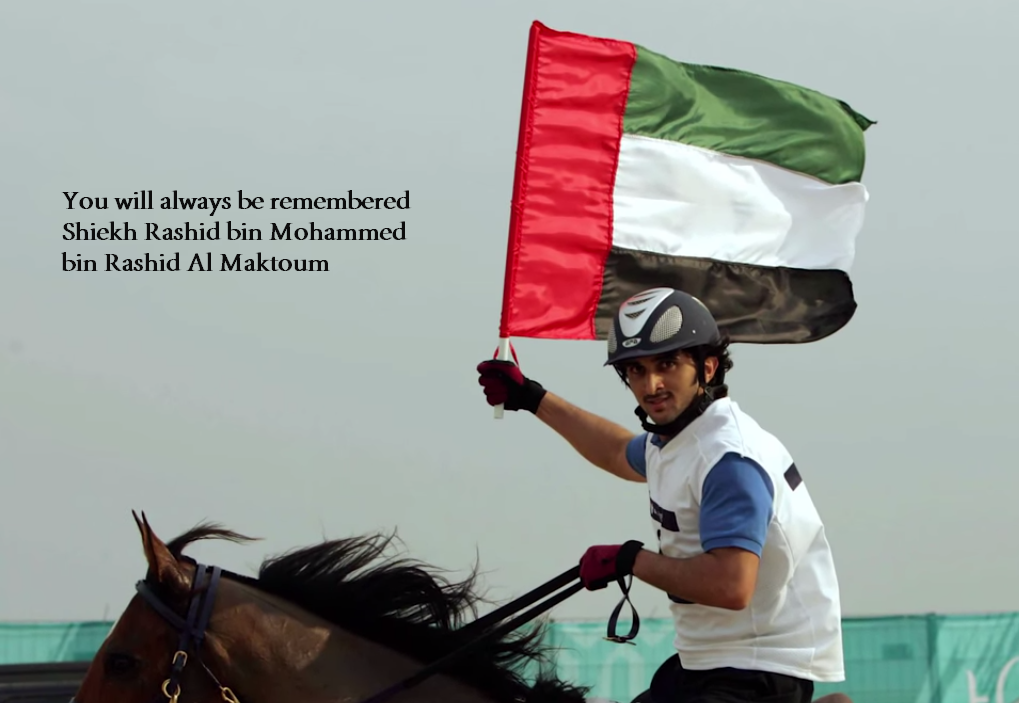 Sheikh Rashid bin Mohammed bin Rashid Al Maktoum, was born in November 12, is the eldest son of Sheikh Mohammed bin Rashid Al Maktoum, the prime minister of UAE and emir of Dubai.
Just yesterday morning, September 19 2015,  the whole UAE was devastated by the tragic news of Sheikh Rashid bin Mohammed bin Rashid Al Maktoum's death from heart attack, at the young age of 33.
This is yet another time, where people unite and mourn for losing a remarkable prince. He will be forever remembered as a prince like no other, and whose legacy will continue to be the talk even after many generations.
Looking back at his astonishing achievements, Sheikh Rashid bin Mohammed bin Rashid Al Maktoum managed to bring honor to his family and country, several times in different occasions, even in international competitions.
He got his most exceptional achievement when he entered 2006 Asian Games. The whole UAE was watching that time. With gleaming eyes, everyone hoped he could really win – He did in the end. He answered to everyone's expectation.
He won 2 GOLD MEDALS, one is 120 Km Endurance Individual, and the other is 120 Km Endurance Team Mixed events.
He was able to win despite the fierce competition. His opponents trained day and night just to achieve the best possible condition during the event. Yet he was able best them. This just shows how much talent the prince really had.
Inspired by his leadership, Zabeel Racing International recorded an unbelievable winning rate of five times more with over 428 wins. He was a man who never failed to surprise people – a great man indeed.
He was also one of the founding members of Dubai Sports and Cultural club. In January 2008, he was chosen and given the highest position in UAE Olympic committee, and not until 2010 that he decided to leave the position due to overload in his work schedule.
According to The National UAE website:
President Sheikh Khalifa declared three days of mourning across the UAE, with flags at government departments and institutions to fly at half mast. Sheikh Khalifa expressed his heartfelt condolences and solace to Sheikh Mohammed.
Sheikh Mohammed bin Zayed, Crown Prince of Abu Dhabi and Deputy Supreme Commander of the Armed Forces, also mourned the death of Sheikh Rashid and expressed condolences to Sheikh Mohammed bin Rashid and Al Maktoum family.
"God bless the deceased young man … We belong to Allah and to Him we shall return," the Court of the Ruler of Dubai said.
The Court said work at Dubai government entities would continue as usual, according to the Dubai Media Office. Dubai's Knowledge and Human Development Authority, which regulates the emirate's private schools, has said schools will remain open.
UAE government institutions, including the Federal National Council, and officials have offered condolences, along with the Ruler's Courts of the emirates and the leaders of Egypt, Jordan, Bahrain, Oman, Qatar, Kuwait and the Arab League.
Prayers will be held at Zabeel mosque on Saturday evening and he will then be buried in Umm Hurair cemetery in Bur Dubai. Roads from the mosque to the cemetery will be closed from 6.40pm to 7.30pm, Dubai Media Office said. Roads subject to closure include Al Majlis Street in front of Zabeel mosque, Zabeel Road and Street 3 leading to the cemetery.
Sheikh Hamdan bin Mohammed, Prince of Dubai in his heartfelt statement yesterday, he said, "Today, I lost a best friend and a childhood companion, my dear brother Rashid," and in his final statement, "You will be missed."
No doubt about it, Sheikh Rashid bin Mohammed bin Rashid Al Maktoum is an exceptional Prince. He is loved and cherished by his friends, family and the people. He will always be missed.